COLLATERAL CRUCIFIXION of JULIAN ASSANGE
Druck machen mit Drucken für Julian Assange ///// Pressure with prints for Julian Assange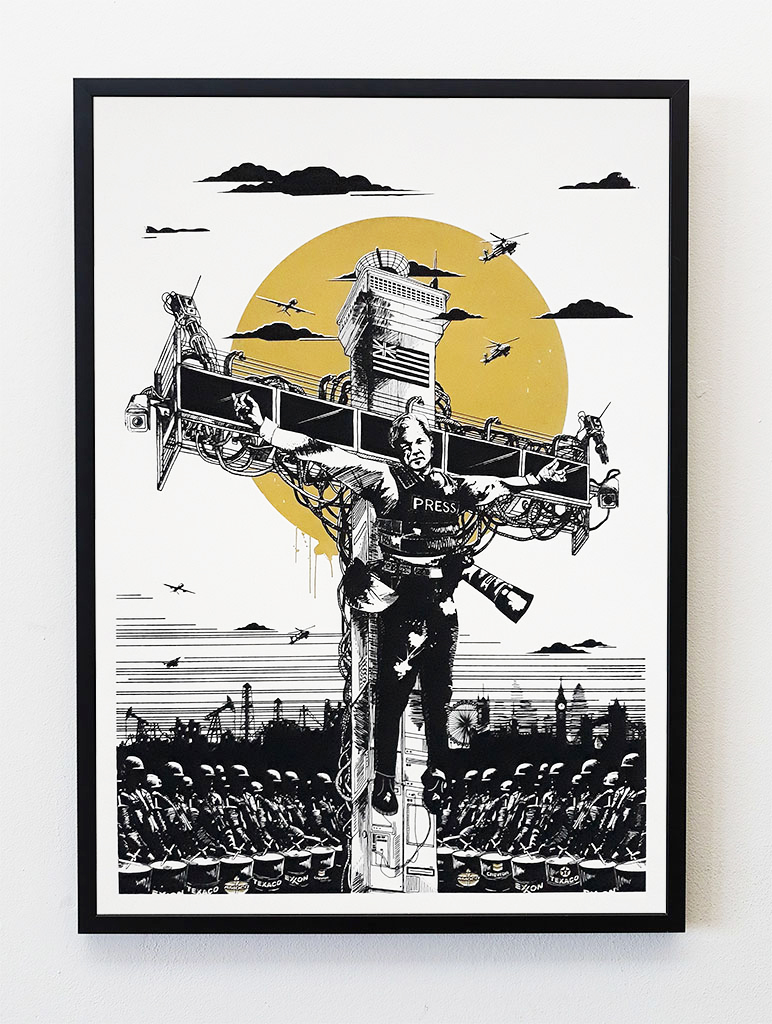 Wir machen Druck mit Drucken für Julian Assange.
Mit dem Kauf eines Original-Siebdrucks mit dem Titel "Collateral Crucifixion" des Künstlerduos Captain Borderline unterstützen Sie unser Vorhaben,dieses Motiv als riesiges, maximale Aufmerksamkeit erzeugendes Assange-Wandbild in Berlin auf eine komplette Häuserfassade direkt vor dem Willy-Brandt-Haus, zu malen.
Seit fast 10 Jahren sitzt Julian Assange in Gefangenschaft,weil er schreckliche, menschenverachtende Kriegsverbrechen in einem völkerrechtswidrigen Ölkrieg aufgedeckt hat und sein Wissen einer breiten Öffentlichkeit zugänglich gemacht hat.Der UN-Sonderermittler für Folter, Nils Melzer, hat als einzige neutrale Instanz seriöse Nachforschung bezüglich dieser Vorfälle betrieben.
Er schlussfolgert, dass Julian Assange Opfer eines riesigen Schauprozesses geworden ist, dessen einziger Sinn und Zweck darin besteht, den Medien weltweit die Grenzen des investigativen Journalismus aufzuzeigen. Das eigentliche Thema dieses Rechtsverfahrens gegen Assange ist also die Pressefreiheit. Journalisten und Whistleblowern wird mit dieser Hexenjagd suggeriert, dass es ihnen genauso gehen werde, sollten sie über die illegalen Machenschaften des amerikanischen bzw. westlichen Establishments und der Regierungen berichten.
Wie sonst kann es sein, dass mächtige Männer wie George Bush und Donald Rumsfeld grundlos ein Land wie den Irak überfallen, bombardieren und straffrei den Tod von fast einer Million Menschen verantworten können, während ein Mann wie Assange, welcher lediglich diese illegalen Machenschaften der Kriegstreiber öffentlich macht,dafür im Hochsicherheitsgefängnis landet. Die verantwortlichen Politiker, Bush und Konsorten hingegen, können unbehelligt ihren geraubten Reichtum in ihren Schlössern genießen. Um zu helfen, die Wahrheit hinter dem Lügenkonstrukt, dessen Opfer Julian Assange seit vielen Jahren ist, ans Tageslicht zu bringen,haben wir, das Künstlerduo Captain Borderline, dazu ein künstlerisches Sinnbild erschaffen.
Mit dem Kauf dieses Kunst Siebdrucks unterstützen Sie den gemeinnützigen Kunst- und Kulturverein "Colorrevolution" e.V. bei der Finanzierung eines riesigen (20m*10m), medienwirksamen Wandgemäldes von "Captain Borderline" mit diesem Motiv direkt vor dem Willy-Brandt-Haus in Berlin.
Der mediale Druck auf Regierungen und Richter muss unbedingt aufrecht erhalten werden!
Applying pressure with prints for Julian Assange.
By buying an original screen print entitled "Collateral Crucifixion" by the artist duo Captain Borderline, you're supporting our plan to create this motif as a large mural in Berlin on a complete house facade right in front of the Willy Brandt House.
Since over 10 years by now Julian Assange sits in captivity because he revealed terrible war crimes in a war for oil which was contrary to international law in the first place to the public.
Julian Assange has been in captivity for almost 10 years for exposing war crimes. Crimes in an oil war contrary to international law. The UN Special Investigator for torture, Nils Melzer, was the only neutral authority to conduct serious investigation into these incidents. He concludes that Julian Assange has fallen victim to a huge show trial, the sole purpose of which is to show the media worldwide the limits of investigative journalism.
The real subject of this legal process is therefore freedom of the press. Journalists and whistleblowers are threatened with this witch hunt, threatened with the fear that if they report on the illegal machinations of the American or Western establishment and governments, they will face the same fate.
How can powerful men like George Bush and Donald Rumsfeld without reason invade, bomb and irresponsively account for the death of almost a million people and are left to enjoy wealth in their castles. While Assange, who exposed these illegal war crimes, ends up in a high-security prison for it?
In order to help bring to light the truth, the artist duo Captain Borderline, have created an artistic symbol. A symbol for truth, a symbol for freedom of speech, a symbol for democracy.
By buying a print, you support our plan to paint a huge (20 m x 10 m) mural of this graphic symbol in Berlin city right in front of the Willy Brandt House. It is essential to maintain media pressure on governments and judges to drop the charges against Julian Assange and against freedom of the press.
Captain Borderline Crew / Mural in Turri, Sardinien / 2020
Im Rahmen einer Künstlerresidenz malten Dabtar & Shanti & Signl von der Captain Borderline Crew ein aufwendiges Wandbild in Turri auf Sardinien. Das Gemälde setzt sich mit der Abwanderung der Jugend aus dem Dorf der allgegenwertigen Safran Pflanze und vielen kulturellen Aspekten der Gegend auseinander.
As part of an artist residence, Dabtar & Shanti & Signl from the Captain Borderline Crew painted an elaborate mural in Turri on Sardinia. The painting deals with the emigration of young people from the village of the ubiquitous saffron plant and many cultural aspects of the area.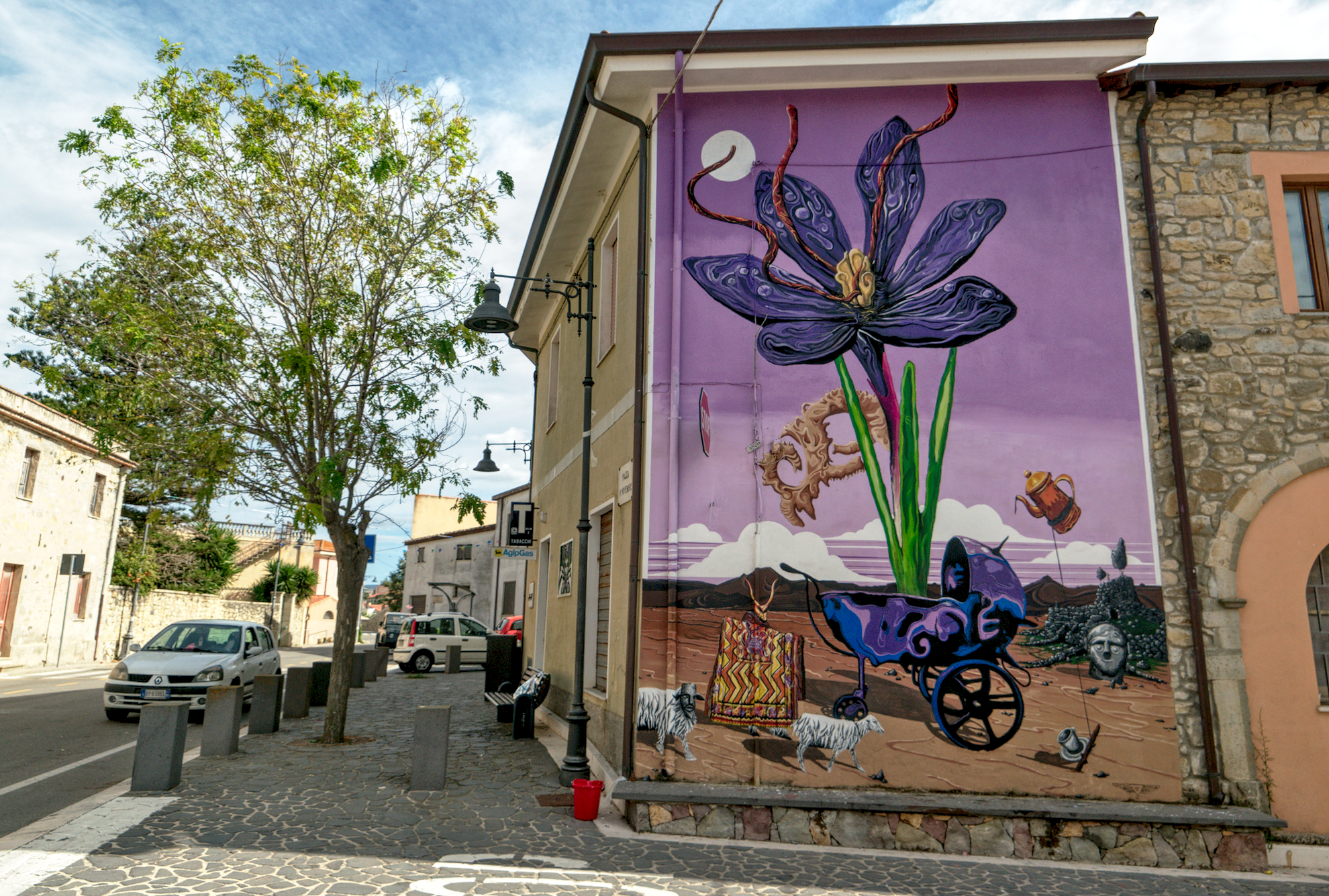 Wandbild an der Künstlerkommune "Kolbhalle" / Köln Ehrenfeld / 2019 ////////////// Mural at the Artist community "Kolbhalle" / Cologne Ehrenfeld / 2019
Jedes Jahr läßt sich die Künstlerkommune "Kolbhalle" die Außenwände von ausgewählten Künstlern neu gestalten. Diesmal malten Shanti&Signl von Captain Borderline ein Wandbild zum Thema des ewigen Kampfes zwischen Künstler/Orten und Immobilieninvestoren.
Every year the artists' commune "Kolbhalle" has the outer walls redesigned by selected artists. This time Shanti & Signl from Captain Borderline painted a mural on the theme of the eternal struggle between artists / locations and real estate investors.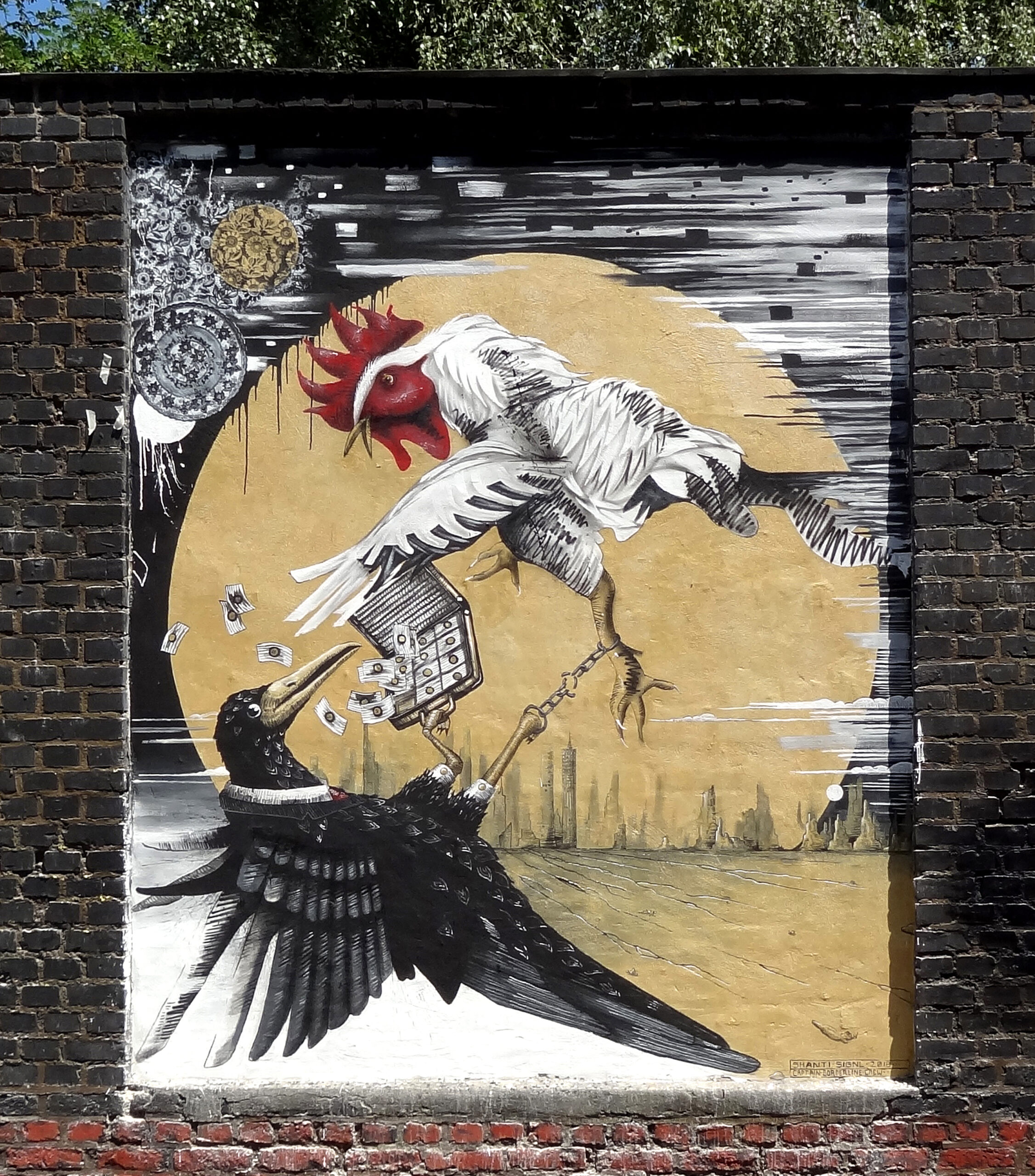 Wandgemälde in Essen / 2018 ////////////////// Mural in Essen / 2018
Shanti_Signl / Captain Borderline /  "House of Cards" / Essen / 2018
Die Künstler "Shanit&Signl"von Captain Borderline gestalteten ein Mural im Rahmen der WDR Kunstsendung "Westart" in Essen.
Das Wandbild setzt sich mit der Finanzwelt und der Finanzkrise auseinander.
Shanti_Signl / Captain Borderline / "House of Cards" / Essen / 2018
The artists "Shanit & Signl" from Captain Borderline designed a mural as part of the WDR art program "Westart" in Essen.
The mural deals with the financial world and the financial crisis.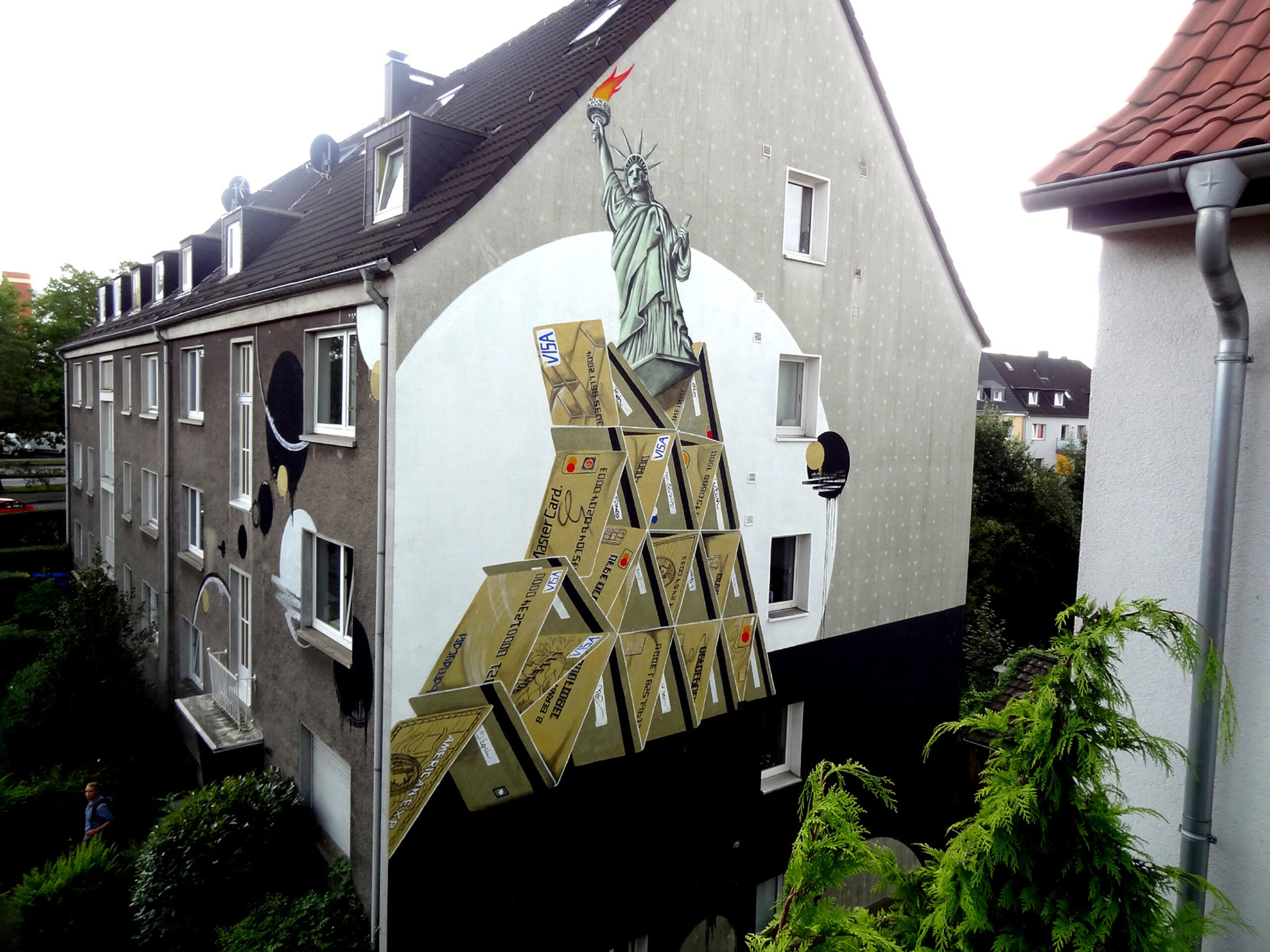 Künstleraustausch für das "Festival de Artes e Conexões" / Brasilien / 2015 //////////// Artist exchange for the "Festival de Artes e Conexões" / Brazil / 2015.
Wir organisierten die Teilnahme des Kölner Künstlers "Dabtar" am Kunstfestival "Artes e Conexões" in Recife / Brasilien. Er malte im Rahmen des Festivals ein Mural.
We organized the participation of the Cologne artist "Dabtar" at the art festival "Artes e Conexões" in Recife / Brazil. He painted a mural as part of the festival.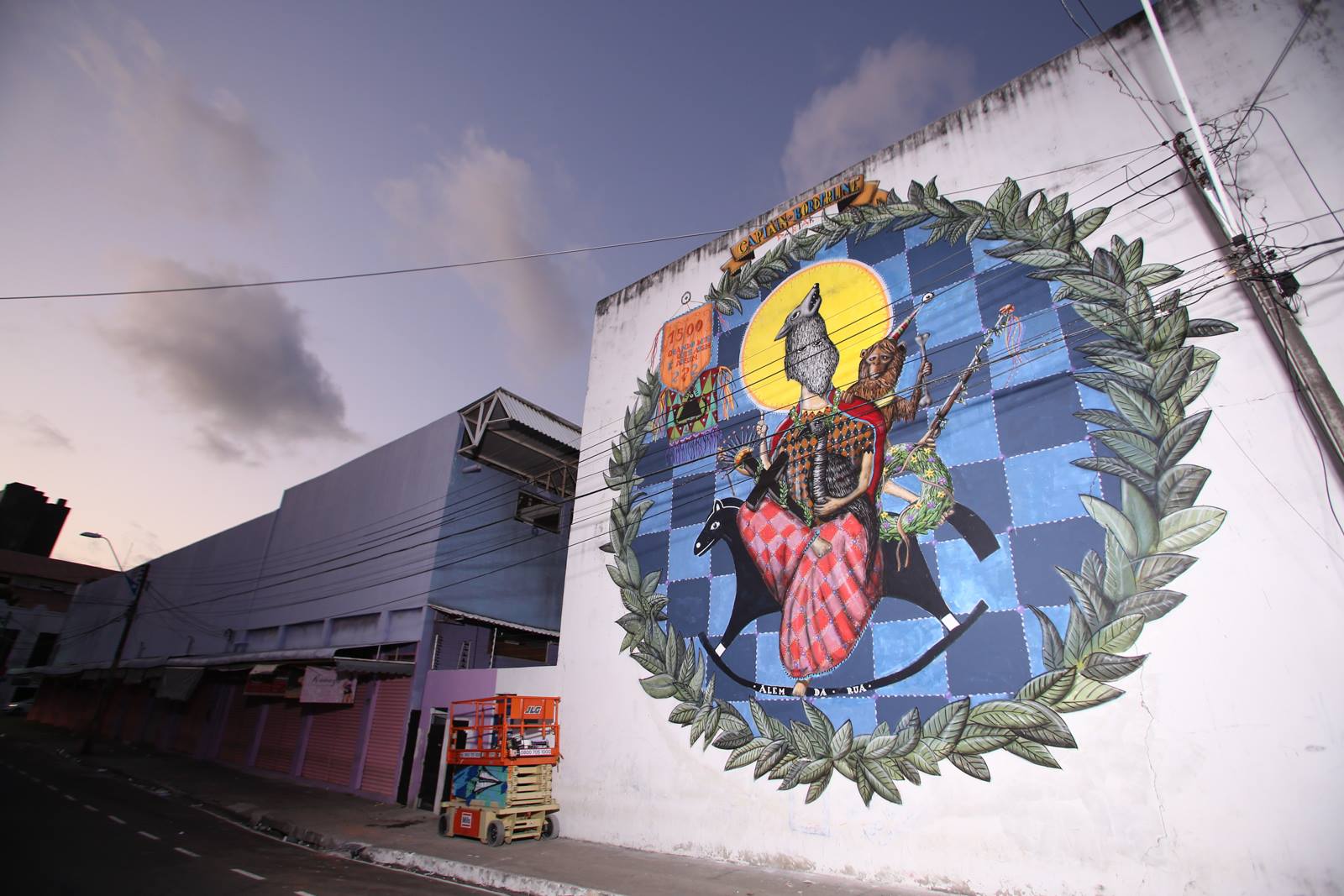 Künstleraustausch Freiraumgalerie Halle / 2015 ///////////////////// Artist exchange Freiraumgalerie Halle / 2015
In Kooperation mit dem Streetartfestival "Freiraumgalerie" aus Halle ermöglichten wir es einem Vereinskünstler ein riesiges Mural in Halle zu verwirklichen. Zusammen mit dem Berliner Künstler "Lake one" und den Freiraumgalerei Künstlern gestaltete der Kölner Künstler A.Signl ein Wandbild zum Thema Flüchtlingskrise.
In cooperation with the street art festival "Freiraumgalerie" from Halle, we made it possible for a club artist to create a huge mural in Halle. Together with the Berlin artist "Lake one" and the Freiraumgalerei artists, the Cologne artist A.Signl designed a mural on the subject of the refugee crisis.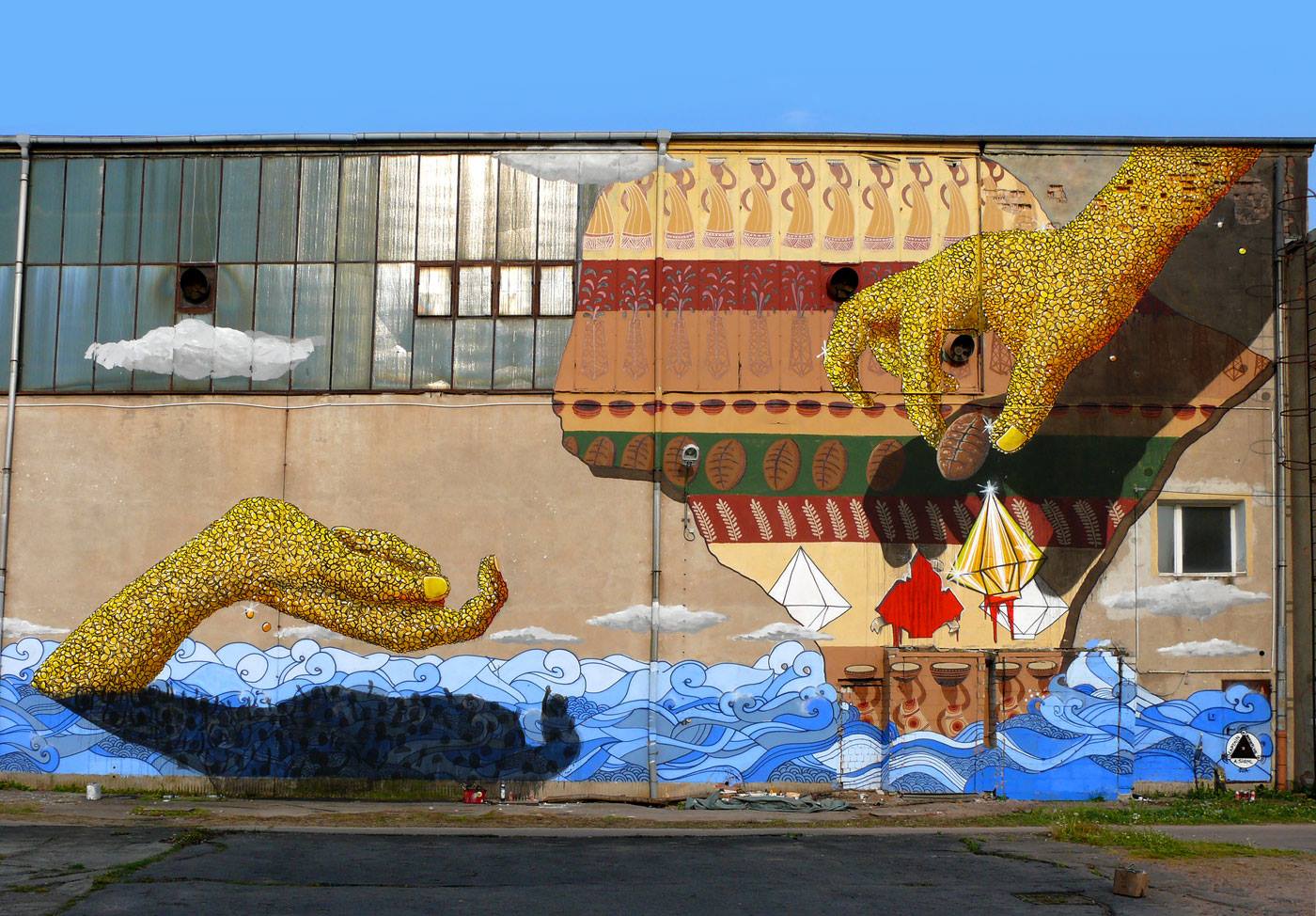 Wandkunst am Bahndamm Ehrenfeld / 2015 /////////////////////// Wall art at the Ehrenfeld railway embankment / 2015
Die Colorrevolution Strassengalerie am Bahndamm Bahnhof Köln Ehrenfeld hat ein weiteres Bild bekommen. Wir haben die Kölner Künstlerin "Layla Xing" und den Kölner Streetartkünstler "Huami" eingeladen ein grosses Stück der Wand zu gestalten.
The Colorrevolution street gallery at the Cologne Ehrenfeld railway embankment has got another picture. We invited the Cologne artist "Layla Xing" and the Cologne street artist "Huami" to design a large piece of the wall.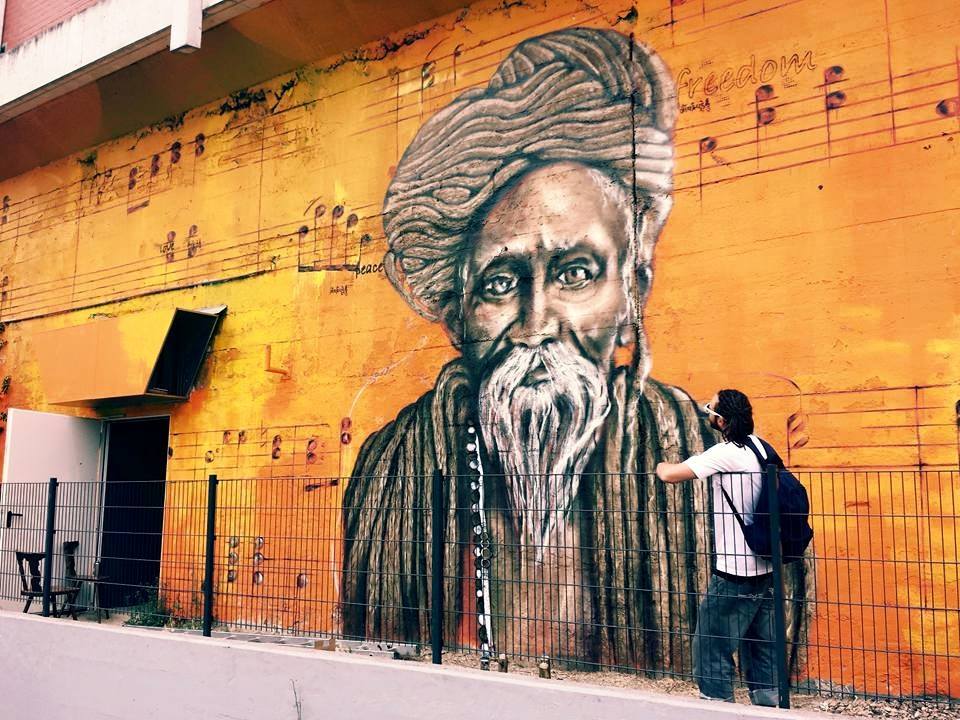 Colorrevolution meets CityLeaks Festival / 2015
Für das diesjährige CityLeaks Festival gestaltete der kroatische Künstler "Sretan Bor" ein großes Wandgemälde in Köln Nippes an der Haltestelle Neusser Str. / Gürtel (Linie 13).Diese Aktion enstand als Kooperation von CityLeaks mit Colorrevolution.
For this year's CityLeaks Festival, the Croatian artist "Sretan Bor" designed a large mural in Cologne Nippes at the Neusser Str. / Gürtel (line 13) stop. This campaign was the result of a cooperation between CityLeaks and Colorrevolution.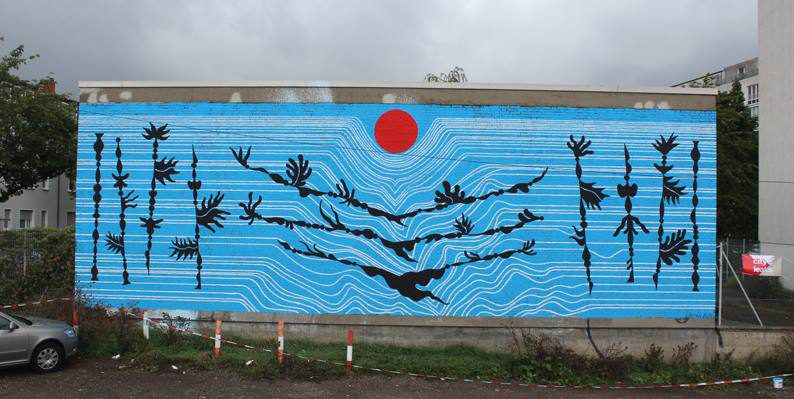 Colorrevolution unterstützt CityLeaks Festival / 2015 //////////// Colorrevolution meets CityLeaks Festival / 2015
Im Rahmen das Kunst Festivals "CityLeaks" organisierten wir einen Künstleraustausch und luden das Künstlerduet "ACIDUM" aus Brasilien ein. In Zusammenarbeit mit CityLeaks stellten wir eine große Wand, Unterkunft, Farben, Versorgung und viel Motivation zur Verfügung. Entstanden ist ein beachtliches Wandkunstwerk mit dem Titel: "Brincando de Deus" ou / "Gott spielen".
As part of the art festival "CityLeaks" we organized an artist exchange and invited the artist duet "ACIDUM" from Brazil. In cooperation with CityLeaks we provided a large wall, accommodation, colors, supplies and a lot of motivation. The result is a remarkable wall art work with the title: "Brincando de Deus" ou / "Playing God".