Druck machen mit Drucken für Julian Assange ///// Pressure with prints for Julian Assange
19. März 2021
Kategorien: Sozialkritisch / Socially critical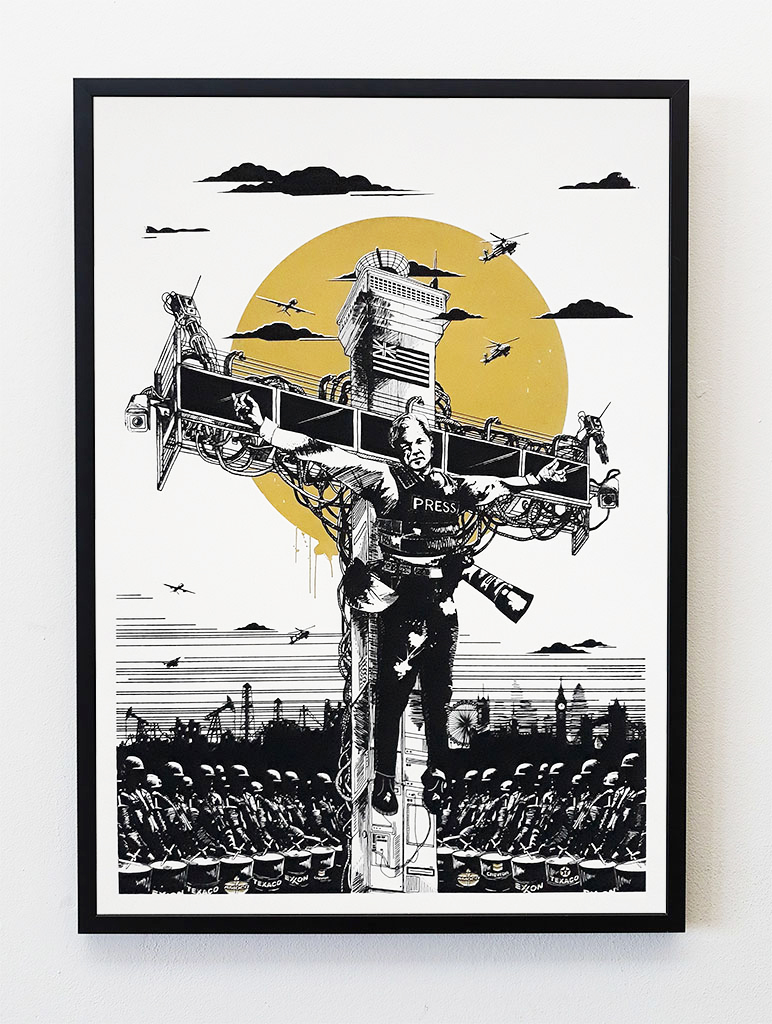 Wir machen Druck mit Drucken für Julian Assange.
Mit dem Kauf eines Original-Siebdrucks mit dem Titel "Collateral Crucifixion" des Künstlerduos Captain Borderline unterstützen Sie unser Vorhaben,dieses Motiv als riesiges, maximale Aufmerksamkeit erzeugendes Assange-Wandbild in Berlin auf eine komplette Häuserfassade direkt vor dem Willy-Brandt-Haus, zu malen.
Seit fast 10 Jahren sitzt Julian Assange in Gefangenschaft,weil er schreckliche, menschenverachtende Kriegsverbrechen in einem völkerrechtswidrigen Ölkrieg aufgedeckt hat und sein Wissen einer breiten Öffentlichkeit zugänglich gemacht hat.Der UN-Sonderermittler für Folter, Nils Melzer, hat als einzige neutrale Instanz seriöse Nachforschung bezüglich dieser Vorfälle betrieben.
Er schlussfolgert, dass Julian Assange Opfer eines riesigen Schauprozesses geworden ist, dessen einziger Sinn und Zweck darin besteht, den Medien weltweit die Grenzen des investigativen Journalismus aufzuzeigen. Das eigentliche Thema dieses Rechtsverfahrens gegen Assange ist also die Pressefreiheit. Journalisten und Whistleblowern wird mit dieser Hexenjagd suggeriert, dass es ihnen genauso gehen werde, sollten sie über die illegalen Machenschaften des amerikanischen bzw. westlichen Establishments und der Regierungen berichten.
Wie sonst kann es sein, dass mächtige Männer wie George Bush und Donald Rumsfeld grundlos ein Land wie den Irak überfallen, bombardieren und straffrei den Tod von fast einer Million Menschen verantworten können, während ein Mann wie Assange, welcher lediglich diese illegalen Machenschaften der Kriegstreiber öffentlich macht,dafür im Hochsicherheitsgefängnis landet. Die verantwortlichen Politiker, Bush und Konsorten hingegen, können unbehelligt ihren geraubten Reichtum in ihren Schlössern genießen. Um zu helfen, die Wahrheit hinter dem Lügenkonstrukt, dessen Opfer Julian Assange seit vielen Jahren ist, ans Tageslicht zu bringen,haben wir, das Künstlerduo Captain Borderline, dazu ein künstlerisches Sinnbild erschaffen.
Mit dem Kauf dieses Kunst Siebdrucks unterstützen Sie den gemeinnützigen Kunst- und Kulturverein "Colorrevolution" e.V. bei der Finanzierung eines riesigen (20m*10m), medienwirksamen Wandgemäldes von "Captain Borderline" mit diesem Motiv direkt vor dem Willy-Brandt-Haus in Berlin.
Der mediale Druck auf Regierungen und Richter muss unbedingt aufrecht erhalten werden!
Applying pressure with prints for Julian Assange.
By buying an original screen print entitled "Collateral Crucifixion" by the artist duo Captain Borderline, you're supporting our plan to create this motif as a large mural in Berlin on a complete house facade right in front of the Willy Brandt House.
Since over 10 years by now Julian Assange sits in captivity because he revealed terrible war crimes in a war for oil which was contrary to international law in the first place to the public.
Julian Assange has been in captivity for almost 10 years for exposing war crimes. Crimes in an oil war contrary to international law. The UN Special Investigator for torture, Nils Melzer, was the only neutral authority to conduct serious investigation into these incidents. He concludes that Julian Assange has fallen victim to a huge show trial, the sole purpose of which is to show the media worldwide the limits of investigative journalism.
The real subject of this legal process is therefore freedom of the press. Journalists and whistleblowers are threatened with this witch hunt, threatened with the fear that if they report on the illegal machinations of the American or Western establishment and governments, they will face the same fate.
How can powerful men like George Bush and Donald Rumsfeld without reason invade, bomb and irresponsively account for the death of almost a million people and are left to enjoy wealth in their castles. While Assange, who exposed these illegal war crimes, ends up in a high-security prison for it?
In order to help bring to light the truth, the artist duo Captain Borderline, have created an artistic symbol. A symbol for truth, a symbol for freedom of speech, a symbol for democracy.
By buying a print, you support our plan to paint a huge (20 m x 10 m) mural of this graphic symbol in Berlin city right in front of the Willy Brandt House. It is essential to maintain media pressure on governments and judges to drop the charges against Julian Assange and against freedom of the press.